By now everybody knows the retirement options at Vanguard. They offer many different retirement structures. But how much do you know about the Vanguard SEP IRA? We'll take a close look.
As a provider of defined benefit plans, we have come across clients with a lot of questions, financial uncertainties, and a sense of fear about being able to maintain their present lifestyle during retirement. We help small businesses establish cash balance plans, pension plans, and hybrid defined benefit plans.
Quick Navigation
However, more often than not, our discussions usually start on a different note. A significant portion of our clients begin with a Vanguard SEP IRA, and later implement advanced retirement saving strategies, such as our combo cash balance plan. In this post, we're going to find out everything about Vanguard's SEP IRAs and how one can use these plans to save for retirement.
Does Vanguard offer SEP IRA?
Vanguard is an industry leader in low cost investing. In fact, the investment firm claims its ETF expense ratios to be 74% below the industry average fees. When it comes to SEP IRAs, Vanguard offers some of the lowest maintenance and operation charges. But before we move forward with the specifics of a Vanguard SEP IRA, let's touch on the basics of a SEP IRA plan.
Who can open a SEP IRA?
A SEP IRA is a retirement plan designed for small business owners (sole proprietors, partnerships, or corporations), self-employed professionals, and individuals with freelance income. The employer is required to open a SEP IRA for all the eligible employees satisfying the conditions set forth by the IRS.
Who can contribute to a SEP IRA?
Only employers can contribute to a SEP IRA. They must make equal percentage contributions to the SEP IRAs of the eligible employees.
What are the contribution limits for a SEP IRA?
As an employer, you can contribute the lesser of:
25% of the annual salary of an employee, or
$57,000 for 2020 ($56,000 for 2019)
Employers don't have to make mandatory annual contributions, giving them sufficient flexibility.
What are the timelines to open a SEP IRA and annual contributions?
You can establish and contribute to a SEP IRA until the tax filing deadline (April 15), including any applicable extensions (up to October 15).
What are the required minimum distributions in a SEP IRA?
The IRS requires account owners to take required minimum distributions starting at age 72 or 70 ½ if you turned age 70 ½ before January 1, 2020.
What sets Vanguard SEP IRA apart
Cheaper than third-party SEP-IRA products
Unlike other investment management firms, Vanguard is held by its shareholders, which allows it to offer cost-effective solutions. Vanguard has some of the lowest registration, account set up, and maintenance fees.
Cost-efficient investment options
Vanguard is known for its ETFs and index funds that beat the average expense ratio in the market by 82%, thereby putting more money in the pockets of the investors. A SEP IRA account holder can invest in the ETFs and mutual funds run by Vanguard, third-party mutual funds, CDs, bonds, and even individual stocks. There are no annual charges for mutual fund investments with a balance of $10,000 or higher.
Intuitive online platform and customer service
Another reason individuals prefer Vanguard SEP IRA over its competitors is its intuitive online platform. Vanguard offers diverse retirement planning resources, investment calculators, retirement calculators, and even tax-filing information to its users. You can easily manage contributions and investments for your employees on the platform.
Vanguard excels in providing customer support services, including phone, email, and self-help sections on its website. Vanguard's customer support executives can help you understand the entire process, set up an online account, and even help you with other features of the online investment platform.
Personal Advisory Services
Vanguard offers personal advisory services for a 0.30% fee, making it an exceptional asset management firm. You can connect with a financial advisor, explain your goals, and the advisor will put together a tailored portfolio accordingly. Additionally, your advisor will rebalance your portfolio to keep it aligned with your retirement goals.
How to set up a Vanguard SEP IRA
Open Vanguard's official website and choose "open an account option."
Select SEP-IRA from the list of different accounts (For a Business category).
Register with Vanguard or log-in.
Choose SEP-IRA from the options.
Complete Vanguard's online application form.
Wait for confirmation from Vanguard.
Start managing SEP IRAs after the confirmation.
Choosing between a defined benefit plan a Vanguard SEP IRA
Now that we have explained what a Vanguard SEP IRA is all about, let's find out how it stands against a cash balance plan. The truth is that each of these plans is made for an entirely different purpose.
A SEP IRA makes sense if you intend to contribute between $30,000 to $50,000 in your retirement account. Cash balance plans, on the other hand, are made for professionals or executives who intend to contribute anywhere between $100,000 to $500,000 in a retirement plan.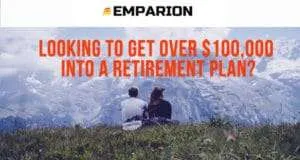 Many of our clients had a Vanguard SEP IRA before they transitioned into our custom-built cash balance plans, allowing them to boost their retirement savings manifold.
Can I invest in other companies' mutual funds?
Vanguard allows SEP-IRA owners, sponsors, to add mutual funds from different companies to a retirement portfolio. Additionally, you can add individual stocks, CDs, and even bonds to your SEP IRA.
Bottom Line
Retirement planning varies from one person to another. If you're a small business planning to save modest amounts towards retirement along with contributing to the retirement accounts of your employees, a Vanguard SEP IRA is a good option.
However, if you are trying to catch-up for the lost time, we'd recommend a cash balance plan or defined benefit pension plan. It'll allow you to supercharge your retirement savings while having the flexibility to design a custom plan structure.
If you have any questions about cash balance plans, our team will be more than happy to answer them.