The government is offering over $2 trillion in stimulus under several different programs. The most significant of which is the Paycheck Protection Program (also known as "PPP"). But how are retirement plans treated under the PPP? We'll take a look.
Table of Contents
What is the Paycheck Protection Program?
On March 27, 2020, President Trump signed into law the Coronavirus Aid, Relief, and Economic Security (also called "CARES") Act of 2020. The Act created the Paycheck Protection Program to provide assistance to small business owners impacted by the COVID-19 crisis.
The plan allows for loans to be issued that will cover payroll costs as well as rent and other specified operating costs. These loans will then be forgiven once the business meets the forgiveness criteria. The goal is to give companies additional funds so they can weather the economic storm and keep employees on payroll.
Calculating the Paycheck Protection Program Loan is in theory a simple process. It is completed by multiplying your "Average Monthly Payroll" by a factor of 2.5. You can then add the EIDL amount (if you applied for EIDL).
Here are a few key ways it is calculated:
Most business owners will use 2019 payroll numbers to calculate the "Average Monthly Payroll".
If your business is seasonal in nature, the company can elect to use average monthly payroll for the period of time between February 15, 2019 and June 30, 2019.
If you started a new business, the average monthly payroll can be completed using the time frame from January 1, 2020 to February 29, 2020.
It is important to note that no matter which of the above calculations you perform, you would need to exclude costs over $100,000 on an annualized basis for each employee.
If a business owner is refinancing an Economic Injury Disaster Loan (EIDL), you will need to add the outstanding balance of an EIDL that was made between January 31, 2020 and April 3, 2020. You then deduct the amount of any "advance" under an EIDL.
Simple, right? It gets more painful.
Eligible payroll costs under PPP include:
The first step for business owners looking to get a PPP loan is to calculate payroll costs. Most people would assume this just means aggregating the payroll paid to employees over a specified period of time. Sounds pretty simple.
However, the Act allows payroll costs to be adjusted for several items. Among other things, section 1102 of the Act includes in the definition of payroll costs to include "payment of any retirement benefit."
So now we can get into a discussion of what constitutes payroll costs under PPP. Payroll costs are broadly defined to include the following:
salaries and wages paid to employees
commission and tips
vacation and sick pay.
state and local payroll taxes (including state unemployment)
payments for group healthcare benefits, which would cover insurance premiums.
retirement benefits.
The last item on the list is what draws the most discussion. That's why we will dive into it in more detail.
The inclusion of the retirement benefit language specifically in the PPP has generated many questions by CPAs and legal professionals. But more importantly, business owners who need the PPP to pay their bills need clear answers so they can obtain funding.
Non-eligible payroll costs under PPP include:
The non-eligible payroll costs are typically not that subjective. But you need to consider them when performing the calculation so that you don't get tripped up.
Employee wages in excess of $100,000.
Employee payroll taxes and income taxes withheld on wages (these are actually already included in the gross payroll amount).
Employer paid portion of federal payroll taxes (employer FICA tax).
Payments to employees who principally live outside the U.S.
Certain sick and family leave payments for which there a credit is available under sections 7001 and 7003 of the Families First Coronavirus Response Act.
Are retirement plan contributions allowed under the Paycheck Protection Program?
Yes…but be careful. The phrase "payment of any retirement benefit" is very broad and could even be considered vague. But sounds like it is intended to be directed towards employer contributions made as part of normal and ongoing payroll costs.
The key word to me in the retirement plan language is the word "any." So this would generally be interpreted to mean all employer retirement contributions. But for many of us this doesn't sound right. So let's dig a little deeper.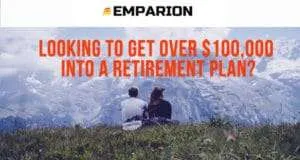 But lets be clear. No formal guidance has been issued by Treasury Department or the IRS on this specific aspect of the CARES Act. But the SBA did issue some guidance (more about this later). Make sure you keep on top of any pending guidance as it seems new information is being updated almost daily.
How are retirement plan contributions included in the Paycheck Protection Program loan calculation?
As you read the program guidelines, it states that specific pension benefits that are paid to retired employees should be included in the plan definition of payroll costs. But that doesn't apply to most small businesses. That's because most small business owners don't pay retired employees.
That would be applicable to large companies who may have large accumulated benefits under a defined benefit plan. But it doesn't make much sense for mom and pop businesses.
Fortunately, the SBA clarified this issue on April 7, 2020 and expressly stated that employer contributions to these plans is not included as a component of the $100,000 maximum. If you want to take a look specifically at what they said take a look here at question #7. But for ease I will post what they said below:
Many business owners did actually assume that the plan included employer retirement contributions to a variety of retirement structures.
Employer contributions under defined contribution plans would include:
safe harbor contributions under 401k plans
SEP contributions
Profit sharing contributions under 401k plan
For example, if a company makes matching contributions during the months of April and May 2020, then those funds would be included in the forgiveness calculation for the 8-week period.
But profit sharing contributions are often made differently. Typically, these would be made at the end of 2020 and may be made up to and including the date the tax return is filed. How this is reconciled is not that clear.
Are the profit sharing contributions included in payroll costs based on a pro rata amount incurred during the 8-week period? Remember that the period ends on June 30, 2020.
In addition, it is unclear how any matching contributions that are made at the end of the year would be included in the payroll cost definition. We know that defined benefit plan contributions are OK, but how are they allocated?
An important point to note is that 401k employee deferrals are not truly a company retirement contribution. It is a salary deferral made at the election of the employee. So as long as you consider gross employee compensation you will not take into consideration the deferrals. This point is often confused.
What about defined benefit plans and cash balance plans?
So as noted above, employer contributions that are made to defined benefit plans (including of course cash balance plans) are allowed.
I get it. The law clearly wants employers to continue to make employer retirement contribution to employees. But I do not think the intent was to allow solo business owners to be able to include generous retirement contributions within the definition of payroll costs under the law.
But I certainly think it makes sense under the spirit of the law to allow contributions for other non-owner employees. Retirement contributions are significant employee benefits and I would think they should be allowed under the law. Just make sure that you discuss the issue with the banker who is assisting and approving your loan.
How are retirement plan contributions included in the Paycheck Protection Program forgiveness calculation?
The period covered under the program during which payroll costs (as defined) can be forgiven goes from February 15, 2020 through June 30, 2020. However, companies will have an 8-week period based on the date the loan was approved. The loans are then forgiven after the 8-week period is up.
As it relates to matching contributions made at the beginning of the covered period, it appears that the company is restricted to the 8-week period covered by the loan forgiveness.
What is the PPP forgiveness calculation?
The forgiveness calculation is different than the loan calculation. Follow these steps:
For the first 8 weeks after being approved under the program, you must track your payments made for payroll, rent (or business mortgage interest) and utilities. Be ready to prove this to the lender.
You are able to apply to the lender for loan forgiveness 8 weeks after receiving the initial loan approval.
Your lender has 60 days to verify your documentation and process the loan forgiveness.
If the business maintained it's employee headcount as of February 15, 2020, it will be eligible for full forgiveness. If it's headcount is lower then forgiveness will be reduced.
Also realize that a maximum of 25% of the loan amount can be used towards non-payroll items like rent and utilities.
Paycheck Protection Program retirement plan examples
So let's take a look at how the calculation would actually work.
Let's assume there is a business owner who pays himself $70,000 a year and also has two additional employee that he pays a combined $80,000 a year. In addition, the owner and employees contribute $10,000 into 401k deferrals and the business owners make bi-weekly safe harbor 401k contributions totaling $5,000. The annual payroll costs under PPP would look like the following:
| Category | Amount |
| --- | --- |
| Owner Wage | $70,000 |
| Employee wages | $80,000 |
| Safe Harbor contributions | $5,000 |
| TOTAL Annual Payroll Costs | $160,000 |
Notice how the 401k deferral is excluded from the table. This is because it is already counted in the gross payroll number. But the safe harbor contributions would be included because they are part of an employer sponsored plan.
| Category | Amount |
| --- | --- |
| TOTAL Annual Payroll Costs | $160,000 |
| Monthly payroll (divide by 12) | $13,333 |
| Loan amount (factor of 2.5) | $33,333 |
So you can see that the loan amount would be $33,333. This amount can go a long way to retaining your employees.
Bottom Line
Understanding how retirement plan contributions are handled under the Paycheck Protection Program can be complex. Additional clarification and guidance is necessary to make sure that the payroll calculation is done correctly.
Small businesses (those with 500 or less employees) were allowed to start applying for the program through the SBA beginning on April 3, 2020. In addition, independent contractors and sole proprietors are able to apply starting on April 10, 2020.
I will attempt to update this post as more information comes to light. But in the meantime, if you have any questions or updates please note them in the comments section. It will help us all understand the program and how we can benefit most from it.