At Emparion, we know the importance of retirement planning. Our specialty is defined benefit plans and cash balance plans. But we know SEPs are also important. In this post, we'll do a review of the Charles Schwab SEP IRA.
Smart Navigation
The Importance of Retirement Planning
It's a common perception to regard entrepreneurs and small-business owners as financially proficient. But at Emparion, we know that retirement planning may not be as easy as you might think. Seven out of ten small business owners aren't confident about their retirement planning.
We have worked with business owners who have put their business ahead of their personal finances, leaving them utterly unprepared for retirement. We help business owners get ready for retirement through defined benefit plans. Not only are they able to cover for all the lost years through substantial contributions, but they also receive huge tax deductions in the process.
But first things first. Our first interaction with small businesses often starts with SEP IRA plans and later turn into our more sophisticated retirement structures. The goal of this post is to discuss the Schwab SEP IRA and to examine other options that may be more suitable for your business.
Does Charles Schwab Offer a SEP IRA?
Charles Schwab manages client assets worth over $3.85 trillion, making it one of the largest fund management companies in the world. The investment management firm operates in more than 46 states across the US, making it an ideal choice for a SEP IRA.
A Schwab SEP IRA, unlike Vanguard, excels in its online experience, ease of use, and extensive fund options. Unlike other retirement plans, SEP IRAs require minimal administration, have little or no tax-filing requirements, and offer flexibility in making contributions.
If this is the first time you're reading about SEP IRAs, here is a quick definition for you.
What is a SEP?
A Simplified Employee Pension (SEP) IRA is a retirement account designed for business owners (LLCs or LLPs), individuals with freelance income, and self-employed professionals. One must have a business income or freelance income to establish a SEP IRA.
Some essential features of a SEP IRA are:
Offers tax-deductible contributions with immediate vesting
Contributions enjoy tax-deferred growth
No annual contribution requirements offer flexibility
Contributions are reasonably high when compared with IRAs.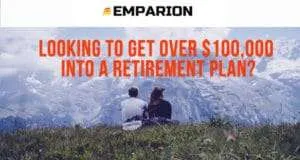 Top Schwab SEP IRA Features
Zero account opening, maintenance fees: There are no minimum account balance requirements with Schwab. You pay zero maintenance fees, a $0 online trading fee, and no-cost Schwab ETF transactions. One must note that phone trades cost $25 per trade, and you will pay transaction charges for third-party funds.
Multiple investment options: One of the perks of establishing a Schwab SEP IRA is its wide range of investment options, including mutual funds, ETFs, CDs, stocks, bonds, futures, and options. You can invest in third-party mutual funds, index funds as well.
MarketTrack portfolios: If you want to automate your investments, you can choose a portfolio built in accordance with your risk profile. Schwab Target Funds offer the option to let professionals manage, adjust your portfolio to reach a specific retirement amount.
24/7 customer service: Schwab offers 24/7 customer service to all of its clients irrespective of the amount they invest with the firm. You receive a complimentary Personal Portfolio review if you hold over $25,000 in your retirement account.
SIPC (Securities Investor Protection Corporation) protection: Your securities in Schwab's brokerage account are protected for a loss of up to $500,000 by the SIPC.
How to Open a Schwab SEP IRA
Schwab makes it easy to establish a SEP IRA. You can either follow the steps given on the IRS website or follow these steps for your account.
Review the basic plant document and keep it for your records.
Complete the adoption agreement, account application, and Employer's agreement for your Schwab SEP IRA. You have to send a signed copy to Schwab and keep one for your records.
For sole proprietor and self-employed professionals, you only need to upload Employer's agreement and adoption agreement with Schwab to open your SEP IRA online.
Enroll eligible employees in the plan and provide them a copy of the basic plan document.
Start making contributions to the plan.
How SEPs Differ from Defined Benefit Plans
SEP IRAs are excellent retirement instruments for employers aiming to contribute between $10,000 to $50,000 to their retirement plans (though maximum contributions are $57,000 for 2020).
However, if you run a partnership firm with some key executives, a defined benefit plan, such as cash balance plans or pension plans, might make more sense for you. At Emparion, we have worked with small business owners who want to boost their retirement contributions later in their careers (after 50).
Our intuitive retirement plans, such as 401k cash balance plan combo, allow small business owners to supercharge their retirement accounts, contributing over $100,000.
You can run a simulation for your contributions using Emparion Cash Balance Plan Calculator. For an employee aged 45 years, you contribute as high as $187,100 annually.
Can I open a SEP?
The only requirement for a SEP IRA is the presence of freelance income or professional income, and if you're self-employed, you automatically satisfy this requirement. Charles Schwab allows you to establish a SEP IRA online. It offers an easy-to-use online portal and hundreds of investment options to choose from.
How to set up a SEP IRA
Determine if a SEP is your best option. You may find that a SEP limits your contributions. You can make larger contributions with a defined benefit plan or cash balance plan.
Make sure that you like the online portal and investment options. For many investment platforms it comes down to your comfort zone. All providers have slightly different options depending on account type and preferences.
Review and sign plan agreement. Schwab has a great customer service department and they can help with all the details of plan set-up.
Determine investment mix and portfolio. When it comes to your investment selection, Schwab offers plenty of options for a diversified portfolio.
Plan Funding. Make sure the plan is funded prior to the tax return due date (including extensions).
Schwab SEP IRA Review
If you're getting started with your retirement planning and want to make modest contributions to your retirement account, a SEP IRA is an excellent plan to start saving for retirement.
However, if you are seeking an option to boost your retirement contributions, a cash balance plan makes perfect sense for your business. At Emparion, we help companies, entrepreneurs, and self-employed professionals prepare for their later years. We can help you establish your plan without any hassles. We take pride in our customers' success, and our team has helped create hundreds of success stories until now.
If you're ready to take your next step, get in touch with our team here. We'll be happy to answer your questions.